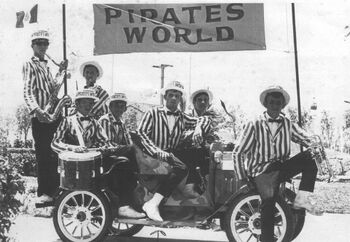 Pirates World was a pirate-themed amusement park located in Dania, Florida. During their short lifespan, they produced several low-budget films, including Santa and the Three Bears.
Pirates World was opened in 1967 and quickly became popular for its exciting rides. Several animated features were filmed there (see below.) It also became known for its rock concerts, which featured Led Zeppelin, The Grateful Dead, and Black Sabbath, among many others. 
In addition to being a theme park, Pirates World also produced several animated films. After their initial releases, most of the films fell into obscurity, with the exception of Santa and the Three Bears, which had several home video releases in the 1980s.
However, the park's popularity was short-lived. In 1971, Walt Disney World opened in Florida, which attracted many of Pirates World's customers. "By 1973 it was in bankruptcy," said Florida historian Robert H. Brown. "By 1975 it was closed and demolished." Plans to build a Christian-themed park on the site fell through in 1978. Condominiums have since been built over the last traces of the park.
Filmography
Edit
Jack and the Beanstalk (1970)
Thumbelina (1970)
Santa and the Three Bears (1970)
Musical Mutiny (1970)
Santa and the Ice Cream Bunny (1972) (features Thumbelina. Alternate versions featuring Jack and the Beanstalk also exist.)