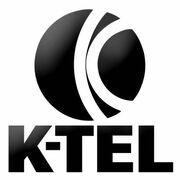 K-Tel is a distributing company that has offered a wide range of products, including records, video tapes, and various novelty items. They are headquartered in Winnpeg, Manitoba.
K-Tel was founded by Philip Kives, a salesman. His first experience with TV advertising was in 1962, when his company (not yet named) sold Teflon frying pans through a TV commercial. The business expanded and was formally named K-Tel in 1968.
K-Tel expanded rapidly in the 1970s, taking over many similar companies. Around 1972, K-Tel took over Syndicate, a company that made compilation albums. This led to K-Tel's successful releases of these albums during the 1970s and 1980s. They also released a number of memorable products, such as the Record Selector and Golf King.
Video Releases
Edit
K-Tel's first home video release was Mini-Pops Music Video #1 in 1982, which was released to tie in with their recent album We're the Mini-Pops! Though the album was a success, the video was not.
K-Tel attemped to enter the growing video market in 1984, releasing public domain films (such as Night of the Living Dead) on VHS.These were also a failure.
In 1987, K-Tel became closely associated with K5, a Canadian video distributor. This led to the formation of K-Tel Video in 1988. K-Tel Video released compilation tapes of car crashes, races, and similar material. They also distributed K5's tapes outside of Ontario. K-Tel video closed by 1992, but has since re-opened, and currently releases a wide variety of films on DVD.