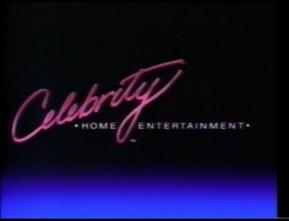 Celebrity Home Entertainment (also known as "Celebrity Home Video", and simply "Celebrity Video"), founded by Noel C. Bloom, was a home video distributor specializing in mostly obscure material from around the world, as well as B-grade action films and soft-core adult fare, although they also released some material that was very famous at the time of its original release (such asBraveStarr, Filmation's Ghostbusters, C.O.P.S. and the G.I. Joe movie). They were perhaps best known (such as they were) for their "Just For Kids" imprint, featuring animated material broadcast in the United States, as well as original acquisitions such as the French animated series Clémentine, BBC's Postman Pat. The imprint also distributed various English-dubbed versions of Japanese anime, including the RAI/TMS joint production, Sherlock Hound, and Tottoi (The Secret of the Seal). However, most such productions of the latter reflected the times, being edited to reflect U.S. broadcast standards. Further, some, though not all TV series releases were edited into 1 or 2 compilation films (ex: the aforementioned Clémentine, plus Wee Wendy (Tongari Boushi no Memoru). Some series were never even finished, and the videos themselves usually only contained select episodes.
Cartoon Classics
Edit
Celebrity Home Entertainment also distributed a Cartoon Classics series, VHS tapes containing 4 episodes each. Some of these tapes prominently featured the character of the first episode. For example, a tape containing a Tweety Bird cartoon as the first episode, would be labeled "Tweety", with a redrawn image on the box, and so on for Daffy Duck, Porky Pig, etc., However, some tapes did not contain all the episodes listed, and the logos of the original companies would be cut off due to legal issues. Sometimes, there would be no sound for the first several minutes, and the cartoons would sometimes end abruptly. The prints were usually sub-par. On the Tweety VHS, the first cartoon is "A Tale of Two KItties". Most the color is gone, leaving the only pigmentation a sickly red.
While this was characteristic of Vidtape, Inc. products as well, Celebrity Home Entertainment's Classic Cartoons had nowhere near the rampancy of quality control issues that the Cartoons R Fun franchise had.
List of Releases
Edit
A list of all of Celebrity's releases, including the dates they went out of print, can be found here.
[edit]Other companies founded by Noel C. BloomEdit
Founded in 1981 as Family Home Video; changed its name to International Video Entertainment (I'VE), then changed again to LIVE Entertainment Cos., and in 1998, to Artisan
Celebrity Home Entertainment filed for bankruptcy protection in 1991, and closed down completely in 1997. [1] All of their releases are now out of print (although some can still be bought new).